NAG members had a great time at the Kansas City ASA conference!  At least 13 of us attended.  Highlights of the conference for those that attended included the following:
* Short Course on Auralization and Virtual Reality, presented by Prof. Michael Vorlander (RWTH Aachen University) and Dr. David T. Bradley (Vassar College)
* Tutorial Lecture on the Acoustics of Pianos, presented by Prof. Antoine Chaigne (ENSTA)
* Tour of the new Kauffman Center for the Performing Arts
* Presentations in the session "Coordination of Architectural and Sound System Design in the Built Environment"
* The Knudsen Lecture, presented by Scott Pfeiffer (Threshold Acoustics)
* And of course, NAG game night!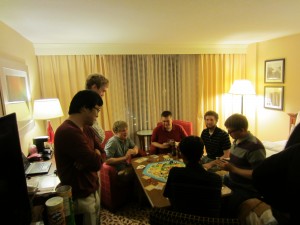 Hope to see many of our ASA colleagues/friends at the next meeting (joint with ICA) in Montreal!